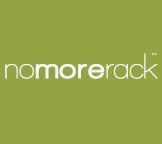 Have you joined NoMoreRack.com yet? Have you received your super cheap items in the mail? Were you damn excited like I was to get home and rip open the package? Well,
NoMoreRack.com
wants to hear about it! Do a 30 second video review and earn a free iTunes gift card! I just love NoMoreRack.com! Everything is so inexpensive and such fantastic quality! I wait patiently for 9am (12 EST) every morning to jump on and see what they have on sale today! What are you waiting for?
Click here to get started!